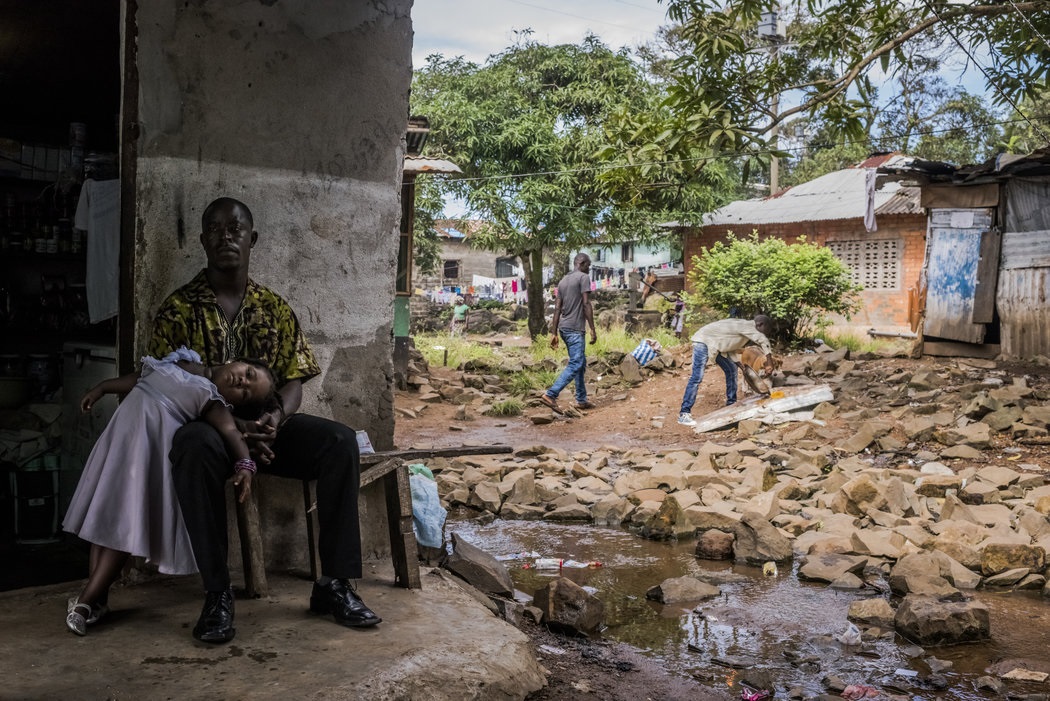 The Doryen family has lived in the Capitol Hill neighborhood of Monrovia, the Liberian capital, since before the country's 14-year civil war began in 1989. Credit Daniel Berehulak for The New York Times
A COMPELLING FACTOR IN THE EBOLA CRISIS IS THAT THERE IS ALWAYS RUNNING FLOWING CONTAMINATED WATER IN THE BACKGROUND WHERE CHILDREN PLAY.    NIGERIA WAS ABLE TO CONTROL ITS EBOLA BECAUSE OF A HIGHLY DEVELOPED INFRASTRUCTURE. NIGERIA ALSO TORE DOWN THE  SLUMS THAT EXISTED WITH CONTAMINATED SEWER  WATERS IN ITS COUNTRY TO PREVENT A MASSIVE EBOLA OUTBREAK.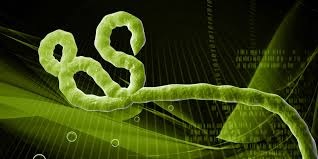 IN SPITE OF RESEARCHERS VEHEMENTLY STATING THAT THE  EBOLA VIRUS  DOES NOT SURVIVE IN WATER, WE POSTED THIS MESSAGE  BELOW TO MOTHERS WITH CHILDREN IN  MAJOR NEW PAPER ARTICLES COVERING EBOLA. ON MOST YOUTUBE VIDEOS COVERING EBOLA AND MANY OF THE AFRICAN MOVIE CHANNELS THAT HAD OVER HUNDRED OF THOUSAND OF VIEWERS.
WE ALSO WROTE LETTERS TO PRESIDENT ELLEN JOHNSON SIRLEAF, WHO, CDC, NIH, PRESIDENT OBAMA, PRESIDENT ERNEST BAI KOROMA TO PLEASE TEST THE EFFLUENT WASTE WATER AS A SOURCE OF THE RISING EPIDEMIC. 30 PER CENT OF THE PEOPLE WITH EBOLA HAD NO CONTACTS WITH EBOLA PATIENTS.
CLICK ON THE GREEN  EBOLA PICTURE ABOVE TO WATCH YOUTUBE VIDEO  BY NEW YORK TIMES.
YOUTUBE USER NAME  alz123alz
A SPECIAL THANK YOU TO NEW YORK TIMES  FOR BRINGING THIS CRISIS TO
OUR LIVING ROOMS WHICH ALLOWED ACRC TO INTERACT WITH GORDON, THE AMBULANCE  EBOLA DRIVER, AND TO THE STAFF OF YOUTUBE FOR KEEPING THE WARNING
MESSAGES ON THE FRONT PAGES
TO DOCTORS WITHOUT BORDERS,  NURSES,  HEALTH CARE  AND COMMUNITY WORKERS
AND ALL THE REAL HEROES IN THE FIGHT TO MAKE THIS
A WORLD WITHOUT EBOLA
CLICK HERE TO READ RESULTS  OF RECENT  STUDIES BY NIH IN 2015
EBOLA VIRUS SURVIVE AT LEAST EIGHT DAYS IN WASTE WATER
THIS WARNING MESSAGE TO MOTHERS AND PEOPLE OF WEST AFRICA DURING THE HEIGHT OF EBOLA EPIDEMIC IN 2014  HELPED TO ERADICATE THE EBOLA CRISIS
PEOPLE IN THE SLUMS OF MONROVIA, STAY OUT OF THE MUDDY WATER AND STREETS WEARING ONLY FLIP FLOPS AND SANDALS. THERE ARE SICK PEOPLE VOMITING IN THE STREETS LEAVING BODY FLUIDS AND THE EBOLA VIRUS IN DIRTY RAIN WATER .
This is the rainy season in MONROVIA  Ebola has increase exponentially since the rainy season. Most people in that area wear flip flops and sandals, which exposes the epidermis OR SKIN of the feet to the Ebola Zaire virus from collected infected waters. YOU ALL NEED TO WEAR RUBBER BOOTS, and step into chlorine before entering the house. PLEASE ASK THE MINISTRY OF HEALTH TO REQUEST USAID TO SUPPLY RUBBER BOOTS FOR EVERYONE.
Many viruses survive in water, e.g. the POLIOVIRUS. POLIOVIRUS can spread through water containing human feces . Researchers do no know enough about the Ebola virus to say that it do not survive in water.
ASK RESEARCHERS TO TEST THE WATERS FOR EBOLA. DON'T LET YOUR CHILDREN PLAY IN DIRTY COLLECTED RAIN WATER FROM STREETS.
WASH HANDS , ARMS, LEGS AND FEET WITH 5 – 10 PER CENT CHLORINE BLEACH AND WATER SOLUTION THREE OR FOUR TIMES A DAY OR AS MUCH AS NEEDED.
POUR CHLORINE BLEACH ON ALL BODY WASTE BEFORE IT IS PUT INTO THE GROUND . Ebola Task Force in Monrovia. We can stop this epidemic with a few behaviorial changes.
GOD GAVE MAN DOMINION OVER THE EARTH, NOT EBOLA ZAIRE May God Bless You.
R.E.T.H.A. REMOVING AND ERADICATING EBOLA THROUGH HOLISTIC APPLICATIONS[spacer height="60px"]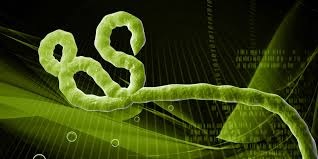 YOUTUBE VIDEO CLICK HERE
Ebola tearing families apart in Sierra Leone, CHANNEL 4 NEWS